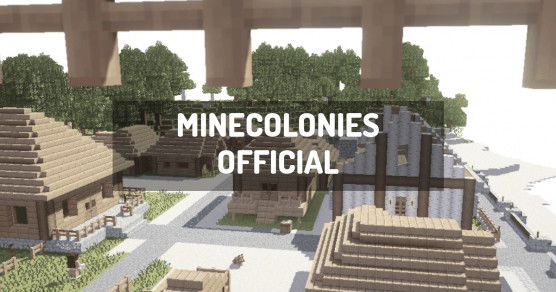 Welcome to the "MineColonies Official" modpack, an interactive Minecraft mod that allows you to create and manage your own thriving colony. This modpack offers immense flexibility, enabling every player to build a colony as unique as they are. With a variety of NPC workers and specialized buildings at your disposal, your imagination is the only limit.
"MineColonies Official" is an interactive modpack that allows you to build your own thriving town within Minecraft. It lets your leadership skills soar by providing you with everything you need to build your kingdom. "MineColonies Official" gives you the flexibility to create a colony as unique as every player. With so many options, you'll create a different colony every time, adapt it to any biome, build inside a mountain, on top of one, under the ocean, or in the sky.
The only limit is your imagination!
"MineColonies Official" features NPC workers such as Builders, Farmers, Fishers, Foresters, Miners, Smelters, Bakers, Cooks, Couriers, five types of animal herders, Composters, and many more, with even more being developed and added as the modpack grows.
It also includes specialized buildings such as the Warehouse, House, Town Hall, Barracks, Library, University, and even the School​.
How to install MineColonies Official?
To install the client version of MineColonies Official locally on your computer, you must use the launcher Twitch, which allows you to start the packages from the Curse site.
Download and install the launcher:

Launcher Twitch / Curse

.
Run the launcher.
Click Mods.
Search for the modpack MineColonies Official.
Select the version of MineColonies Official that is matching the server version where you want to connect and install it.
The MineColonies Official modpack is downloaded and installed on your computer. Click it to launch it.
How to create an MineColonies Official server?
MineColonies Official can be installed in one click with our automatic installer, in the administration panel of your Minecraft server.
Go to the control panel.
Click on Version, Modpacks.
Click on MineColonies Official and validate.
Select the latest version of MineColonies Official and click on Install.
Select Fully reinstall my server (destroying all current data) and click Install.
Your server will automatically restart on MineColonies Official.
Depending on the version and/or modpack, the server may take several minutes to restart.
You have nothing else to do, MineColonies Official is installed on your Minecraft server!
How to update MineColonies Official?
Updating MineColonies Official is very easy. A backup is performed automatically before the update starts, allowing you to restore your server if needed.
Go to the panel
Click Version, Modpacks.
Search MineColonies Official and validate.
Select the new version of MineColonies Official and click Install.
Select Install without removing current data (update), then click Install.
Your server will restart after updating MineColonies Official.
This may take several minutes.
MineColonies Official is up to date!
Version of MineColonies Official
| Version of MineColonies Official | Build | Minecraft |
| --- | --- | --- |
| MinecoloniesOfficial1.16.5v3.7 | latest version | 1.16.5 |
| MinecoloniesOfficial1.16.5v3.6 | latest version | 1.16.5 |
| MinecoloniesOfficial1.16.5v3.4 | latest version | 1.16.5 |
| MinecoloniesOfficial1.16.5v3.3 | latest version | 1.16.5 |
| MinecoloniesOfficial1.16.5v3.2 | latest version | 1.16.5 |
| MinecoloniesOfficial1.16.5v3.1 | latest version | 1.16.5 |
| MinecoloniesOfficial1.16.5v3.0 | latest version | 1.16.5 |
| MinecoloniesOfficial1.16.5v2.8 | latest version | 1.16.5 |
| MinecoloniesOfficial1.16.5v2.5 | latest version | 1.16.5 |
| MinecoloniesOfficial1.16.5v2.3 | latest version | 1.16.5 |
| MinecoloniesOfficial1.16.5v2.2 | latest version | 1.16.5 |
| MinecoloniesOfficial1.16.5v2.1 | latest version | 1.16.5 |
| MinecoloniesOfficial1.16.5v2.0 | latest version | 1.16.5 |
| MinecoloniesOfficial1.16.5v1.9 | latest version | 1.16.5 |
| MinecoloniesOfficial1.16.5v1.8 | latest version | 1.16.5 |
| MinecoloniesOfficial1.16.5v1.7 | latest version | 1.16.5 |
| MinecoloniesOfficial1.16.5v1.6 | latest version | 1.16.5 |
| MinecoloniesOfficial1.16.5v1.4 | latest version | 1.16.5 |
| MinecoloniesOfficial1.16.5v1.3 | latest version | 1.16.5 |
| MinecoloniesOfficial1.16.5v1.2 | latest version | 1.16.5 |
| MinecoloniesOfficial1.16.5v1.1 | latest version | 1.16.5 |
| MinecoloniesOfficial1.16.5v1.0 | latest version | 1.16.5 |
| MinecoloniesOfficial1.16.5V2.6 | latest version | 1.16.5 |
| MinecoloniesOfficial1.16.5 v3.5 | latest version | 1.16.5 |
| MinecoloniesOfficial1.16.5 v2.9 | latest version | 1.16.5 |
| MinecoloniesOfficial1.16.5 v2.7 | latest version | 1.16.5 |
| MinecoloniesOfficial1.16.4v2.4 | latest version | 1.16.4 |
| MinecoloniesOfficial1.16.4v1.9 | latest version | 1.16.4 |
| MinecoloniesOfficial1.16.4v1.5 | latest version | 1.16.4 |
| MinecoloniesOfficial1.16.4v1.4 | latest version | 1.16.4 |
| MinecoloniesOfficial1.16.4v1.3 | latest version | 1.16.4 |
| MinecoloniesOfficial1.16.4v1.2 | latest version | 1.16.4 |
| MinecoloniesOfficial1.16.4 v1.6 | latest version | 1.16.4 |
| MinecoloniesOfficial1.16.4 1.8 | latest version | 1.16.4 |
| MinecoloniesOfficial1.16.4 1.7 | latest version | 1.16.4 |
| MineColoniesOfficial v5.0 | latest version | 1.12.2 |
| MineColoniesOfficial v4.37 | latest version | 1.12.2 |
| MineColoniesOfficial v4.26 | latest version | 1.12.2 |
| MineColoniesOfficial v4.25 | latest version | 1.12.2 |
| MineColoniesOfficial v4.9.1 | latest version | 1.12.2 |
| MineColoniesOfficial v4.9 | latest version | 1.12.2 |
| MineColoniesOfficial v4.8 | latest version | 1.12.2 |
| MineColoniesOfficial v4.7 | latest version | 1.12.2 |
| MineColoniesOfficial v4.6 | latest version | 1.12.2 |
| MineColoniesOfficial v4.5 | latest version | 1.12.2 |
| MineColoniesOfficial v4.4 | latest version | 1.12.2 |
| MineColoniesOfficial v4.3 | latest version | 1.12.2 |
| MineColoniesOfficial v4.2 | latest version | 1.12.2 |
| MineColoniesOfficial v4.0 | latest version | 1.12.2 |
| MineColoniesOfficial v3.3.1 | latest version | 1.12.2 |
| MineColoniesOfficial v3.1 | latest version | 1.15.2 |
| MineColoniesOfficial v3.0 | latest version | 1.15.2 |
| MineColoniesOfficial v2.9 | latest version | 1.15.2 |
| MineColoniesOfficial v2.8 | latest version | 1.15.2 |
| MineColoniesOfficial v2.6 | latest version | 1.15.2 |
| MineColoniesOfficial v2.5 | latest version | 1.15.2 |
| MineColoniesOfficial v2.4 | latest version | 1.15.2 |
| MineColoniesOfficial v2.3 | latest version | 1.15.2 |
| MineColoniesOfficial v2.2 | latest version | 1.15.2 |
| MineColoniesOfficial v2.1 | latest version | 1.15.2 |
| MineColoniesOfficial v2.0 | latest version | 1.15.2 |
| MineColoniesOfficial v1.9 | latest version | 1.15.2 |
| MineColoniesOfficial v1.8 | latest version | 1.15.2 |
| MineColoniesOfficial v1.7.1 | latest version | 1.15.2 |
| MineColoniesOfficial v1.6 | latest version | 1.15.2 |
| MineColoniesOfficial v1.5 | latest version | 1.15.2 |
| MineColoniesOfficial v1.4 | latest version | 1.15.2 |
| MineColoniesOfficial v1.3.1 | latest version | 1.15.2 |
| MineColoniesOfficial 4.23 | latest version | 1.12.2 |
| MineColoniesOfficial 4.21 | latest version | 1.12.2 |
| MineColoniesOfficial1.18.1v11 | latest version | 1.18.1 |
| MineColoniesOfficial1.16.4 v2.6 | latest version | 1.16.4 |