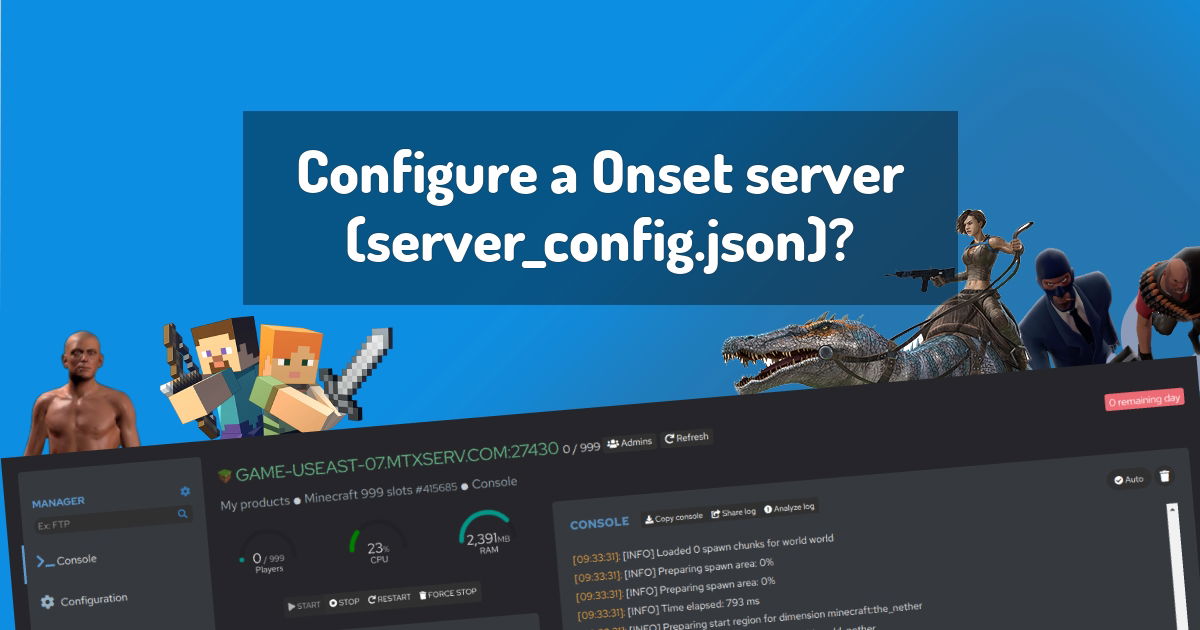 To configure your Onset server, you need to edit the content of server_config.json file located in the root folder of your server.
On a server hosted on mTxServ, you can modify the configuration in the management panel in a few clicks.
After an update of configuration, you must reboot your server.
General Configuration of Onset server
Here is the list of parameters:

servername
Name of server.

servername_short
Short version of the hostname (128 max. chars). Used for Discord/Steam Rich Presence. (Should not contain markup but can contain UTF8 icons)

gamemode
Gamemode of your server.

website_url
Website of your community.

ipaddress
The IP address used to create the server.
Use localhost to make it accessible from your computer only
Use0.0.0.0 to expose it to the Internet.

port
Game server port.
Query Port (UDP): port - 1.
File port (TCP): port - 2.

password
Let empty to let your Onset server public. Set a value to make it private.

maxplayers
Maximum players allowed (max: 300).

timeout
Time in milliseconds after which an unresponsive player will be dropped. This should be between 10000 and 20000 milliseconds.

iplimit
Limit the amount of connections per IP. New connections exceeding that number are being dropped immediately.

masterserver
Set to true to make your server available in public game servers list, else false.

plugins
List of plugins you want to load. These must be in the plugins folder.

packages
List of packages you want to load. These must be in the packages folder.

voice
Set to true to enable VoIP, else false.

voice_sample_rate
VoIP sample rate, higher rates have better quality but also require more bandwidth.
Valid rates are: 8000, 12000, 16000, 24000 , 48000.

voice_distance
Distance where you can hear other players talking in-game.

voice_spatialization
Make the VoIP sound 3D including spatialization and falloff.
Example server_config.json
{
        "servername": "[g]? [c=#00ff00]mTxServ[/c] - [c=yellow]Onset[/c] ? [i]Server[/i] ?[/g]",
        "servername_short": "Onset Server",
        "gamemode": "GET THE EXPERIENCE ⛺ ?",
        "website_url": "https://mtxserv.com/",
        "ipaddress": "0.0.0.0",
        "port": 7777,
        "maxplayers": 25,
        "password": "",
        "timeout": 15000,
        "iplimit": 5,
        "masterserver": true,
        "plugins": [
                "mariadb"
        ],
        "packages": [
                "horizon"
        ],
        "stream_distance": 12000.0,
        "stream_update_rate": 0.05,
        "voice": true,
        "voice_sample_rate": 24000,
        "voice_distance": 4000.0,
        "voice_spatialization": true
}