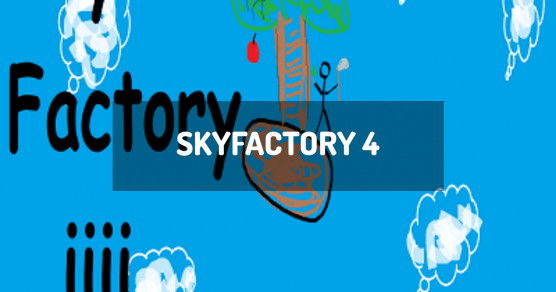 SkyFactory 4 is a reinvention of modded skyblock fun! Offering full automation, tech, magic, and resources, it delivers a unique gaming experience. It also introduces a prestige system, an optional game mode that allows you to unlock mods, items, and mechanics through an open progression system. Get ready for a brand-new adventure in the Minecraft universe!
What makes this version different from all previous SkyFactory versions? We have completely redesigned resource gathering. Resource sifting is now a thing of the past.
For a more immersive experience, we have introduced Sky Orchards. Resource Trees offer an integrated progression system and allow players to choose the resources they want to produce rather than relying on a random system. We have removed the Achievement Book and replaced it with the advancement system. Instead of requiring players to manually check what they have accomplished, the game will track it for you. This system is not designed to create a mandatory quest system but rather an optional set of goals for players looking for ideas on what to do next.
SkyFactory 4 introduces the Prestige system! This is a completely optional game mode that allows you to unlock mods, items, and mechanics through an open progression system. Prestige points and unlocks are global and can be carried over to other worlds! Prestige points can be obtained by completing advancements or by using the Parabox, a time-traveling box that generates points. To start, enable prestige mode on the world creation screen.
Beyond this initial release, we plan to have regular content updates alongside bug fixes. There is currently a full progression path to the endgame. New content updates will introduce new types of worlds, new game modes, more prestige unlocks, and much more!
How to install SkyFactory 4?
To install the client version of SkyFactory 4 locally on your computer, you must use the launcher Twitch, which allows you to start the packages from the Curse site.
Download and install the launcher:

Launcher Twitch / Curse

.
Run the launcher.
Click Mods.
Search for the modpack SkyFactory 4.
Select the version of SkyFactory 4 that is matching the server version where you want to connect and install it.
The SkyFactory 4 modpack is downloaded and installed on your computer. Click it to launch it.
How to create an SkyFactory 4 server?
SkyFactory 4 can be installed in one click with our automatic installer, in the administration panel of your Minecraft server.
Go to the control panel.
Click on Version, Modpacks.
Click on SkyFactory 4 and validate.
Select the latest version of SkyFactory 4 and click on Install.
Select Fully reinstall my server (destroying all current data) and click Install.
Your server will automatically restart on SkyFactory 4.
Depending on the version and/or modpack, the server may take several minutes to restart.
You have nothing else to do, SkyFactory 4 is installed on your Minecraft server!
How to update SkyFactory 4?
Updating SkyFactory 4 is very easy. A backup is performed automatically before the update starts, allowing you to restore your server if needed.
Go to the panel
Click Version, Modpacks.
Search SkyFactory 4 and validate.
Select the new version of SkyFactory 4 and click Install.
Select Install without removing current data (update), then click Install.
Your server will restart after updating SkyFactory 4.
This may take several minutes.
SkyFactory 4 is up to date!
Version of SkyFactory 4
You can download SkyFactory 4 from the official site, if you don't have a minecraft server hosted at mTxServ.
Official website
| Version of SkyFactory 4 | Build | Minecraft |
| --- | --- | --- |
| SkyFactory4 4.2.4 | latest version | 1.12.2 |
| SkyFactory4 4.2.2 | latest version | 1.12.2 |
| SkyFactory4 4.2.1 | latest version | 1.12.2 |
| SkyFactory4 4.2.0 | latest version | 1.12.2 |
| SkyFactory4 4.1.0 | latest version | 1.12.2 |
| SkyFactory4 4.0.8 | latest version | 1.12.2 |
| SkyFactory4 4.0.7 | latest version | 1.12.2 |
| SkyFactory4 4.0.6 | latest version | 1.12.2 |
| SkyFactory4 4.0.5 | latest version | 1.12.2 |
| SkyFactory4 4.0.4 | latest version | 1.12.2 |
| SkyFactory4 4.0.3 | latest version | 1.12.2 |
| SkyFactory4 4.0.2 | latest version | 1.12.2 |
| SkyFactory4 4.0.1 | latest version | 1.12.2 |