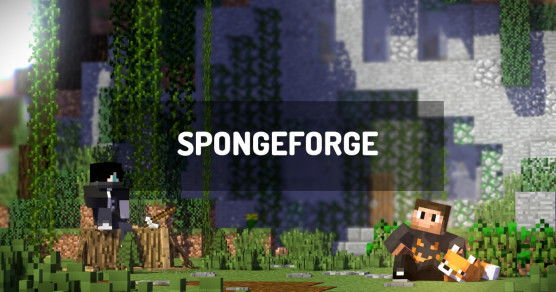 SpongeForge is a mod for the game Minecraft that integrates the Sponge modding engine with Forge, another popular modding tool for Minecraft. SpongeForge combines the features of Sponge with the infrastructure of Forge, providing a powerful platform for developing mods and managing Minecraft servers.
SpongeForge is designed to facilitate the development of custom plugins and mods for Minecraft servers. It offers a comprehensive and extensive API (Application Programming Interface), allowing developers to create custom features and modifications for the game. With SpongeForge, Minecraft server administrators also have access to a variety of plugins and extensions created by the Sponge community.
The features provided by SpongeForge include game event management, creating custom commands, modifying game behavior, managing permissions, manipulating worlds and regions, and much more. It also allows the creation of plugins that are compatible with other Forge mods, offering great flexibility to customize the gameplay experience on a Minecraft server.
How to create an SpongeForge server?
SpongeForge can be installed in one click with our automatic installer, in the administration panel of your Minecraft server.
Go to the control panel.
Click on Version, Modpacks.
Click on SpongeForge and validate.
Select the latest version of SpongeForge and click on Install.
Select Fully reinstall my server (destroying all current data) and click Install.
Your server will automatically restart on SpongeForge.
Depending on the version and/or modpack, the server may take several minutes to restart.
You have nothing else to do, SpongeForge is installed on your Minecraft server!
How to update SpongeForge?
Updating SpongeForge is very easy. A backup is performed automatically before the update starts, allowing you to restore your server if needed.
Go to the panel
Click Version, Modpacks.
Search SpongeForge and validate.
Select the new version of SpongeForge and click Install.
Select Install without removing current data (update), then click Install.
Your server will restart after updating SpongeForge.
This may take several minutes.
SpongeForge is up to date!
Version of SpongeForge
You can download SpongeForge from the official site, if you don't have a minecraft server hosted at mTxServ.
Official website
| Version of SpongeForge | Build | Minecraft |
| --- | --- | --- |
| SpongeForge for minecraft 1.16.5 (36.2.5-8.0.0-RC1077-universal) | 36.2.5-8.0.0-RC1077-universal | 1.16.5 |
| SpongeForge for minecraft 1.16.5 (36.2.1-8.0.0-RC905-universal) | 36.2.1-8.0.0-RC905-universal | 1.16.5 |
| SpongeForge for minecraft 1.12.2 (2838-7.4.7) | 2838-7.4.7 | 1.12.2 |
| SpongeForge for minecraft 1.12.2 (2838-7.4.6) | 2838-7.4.6 | 1.12.2 |
| SpongeForge for minecraft 1.12.2 (2838-7.4.5) | 2838-7.4.5 | 1.12.2 |
| SpongeForge for minecraft 1.12.2 (2838-7.4.4) | 2838-7.4.4 | 1.12.2 |
| SpongeForge for minecraft 1.12.2 (2838-7.4.3) | 2838-7.4.3 | 1.12.2 |
| SpongeForge for minecraft 1.12.2 (2838-7.2.2-RC4021) | 2838-7.2.2-RC4021 | 1.12.2 |
| SpongeForge for minecraft 1.12.2 (2838-7.2.1) | 2838-7.2.1 | 1.12.2 |
| SpongeForge for minecraft 1.12.2 (2838-7.2.0) | 2838-7.2.0 | 1.12.2 |
| SpongeForge for minecraft 1.12.2 (2838-7.1.11-RC4007) | 2838-7.1.11-RC4007 | 1.12.2 |
| SpongeForge for minecraft 1.12.2 (2838-7.1.10) | 2838-7.1.10 | 1.12.2 |
| SpongeForge for minecraft 1.12.2 (2838-7.1.9) | 2838-7.1.9 | 1.12.2 |
| SpongeForge for minecraft 1.12.2 (2838-7.1.8) | 2838-7.1.8 | 1.12.2 |
| SpongeForge for minecraft 1.12.2 (2838-7.1.7-RC3926) | 2838-7.1.7-RC3926 | 1.12.2 |
| SpongeForge for minecraft 1.12.2 (2838-7.1.7) | 2838-7.1.7 | 1.12.2 |
| SpongeForge for minecraft 1.12.2 (2825-7.1.6-RC3764) | 2825-7.1.6-RC3764 | 1.12.2 |
| SpongeForge for minecraft 1.12.2 (2768-7.1.6-RC3686) | 2768-7.1.6-RC3686 | 1.12.2 |
| SpongeForge for minecraft 1.12.2 (2705-7.1.0-BETA-3346) | 2705-7.1.0-BETA-3346 | 1.12.2 |
| SpongeForge for minecraft 1.12.2 (2655-7.1.0-BETA-3064) | 2655-7.1.0-BETA-3064 | 1.12.2 |
| SpongeForge for minecraft 1.12.2 (2611-7.1.0-BETA-3002) | 2611-7.1.0-BETA-3002 | 1.12.2 |
| SpongeForge for minecraft 1.12.2 (2611-7.1.0-BETA-2948) | 2611-7.1.0-BETA-2948 | 1.12.2 |
| SpongeForge for minecraft 1.12.2 (2611-7.1.0-BETA-2931) | 2611-7.1.0-BETA-2931 | 1.12.2 |
| SpongeForge for minecraft 1.12.2 (2586-7.1.0-BETA-2900) | 2586-7.1.0-BETA-2900 | 1.12.2 |
| SpongeForge for minecraft 1.12.2 (2555-7.1.0-BETA-2857) | 2555-7.1.0-BETA-2857 | 1.12.2 |
| SpongeForge for minecraft 1.11.2 (2476-6.1.0-BETA-2792) | 2476-6.1.0-BETA-2792 | 1.11.2 |
| SpongeForge for minecraft 1.11.2 (2393-6.1.0-BETA-2471) | 2393-6.1.0-BETA-2471 | 1.11.2 |
| SpongeForge for minecraft 1.11.2 (2315-6.1.0-BETA-2438) | 2315-6.1.0-BETA-2438 | 1.11.2 |
| SpongeForge for minecraft 1.11.2 (2282-6.1.0-BETA-2375) | 2282-6.1.0-BETA-2375 | 1.11.2 |
| SpongeForge for minecraft 1.11.2 (2282-6.1.0-BETA-2352) | 2282-6.1.0-BETA-2352 | 1.11.2 |
| SpongeForge for minecraft 1.10.2 (2477-5.2.0-BETA-2793) | 2477-5.2.0-BETA-2793 | 1.10.2 |
| SpongeForge for minecraft 1.10.2 (2281-5.2.0-BETA-2626) | 2281-5.2.0-BETA-2626 | 1.10.2 |
| SpongeForge for minecraft 1.10.2 (2281-5.2.0-BETA-2353) | 2281-5.2.0-BETA-2353 | 1.10.2 |
| SpongeForge for minecraft 1.10.2 (2254-5.2.0-BETA-2272) | 2254-5.2.0-BETA-2272 | 1.10.2 |
| SpongeForge for minecraft 1.10.2 (2221-5.2.0-BETA-2229) | 2221-5.2.0-BETA-2229 | 1.10.2 |
| SpongeForge for minecraft 1.10.2 (2202-5.1.0-BETA-2019) | 2202-5.1.0-BETA-2019 | 1.10.2 |
| SpongeForge for minecraft 1.10.2 (2171-5.1.0-BETA-2010) | 2171-5.1.0-BETA-2010 | 1.10.2 |
| SpongeForge for minecraft 1.10.2 (2123-5.1.0-BETA-1928) | 2123-5.1.0-BETA-1928 | 1.10.2 |